Ingram Micro Pocket Guide  
IBM Cloud Paks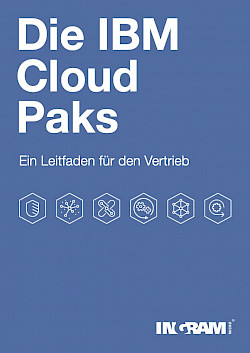 A  comprehensive introduction for IBM sales partners
"Explain IBM Cloud Paks for sales like us!"
The Challenge:   Selling complex technologies and solutions can be quite demanding for resellers. They require solid and convincing arguments to position the vendors' offerings successfully. However, Sales' very specific needs are not always properly addressed by marketing.
An interesting approach to this challenge was developed for IBM Cloud Paks, in which IBM bundles their cloud-based technologies and solutions thematically.
IBM's distributor Ingram Micro regards itself as the interface between the vendor and IBM sales partners. "We make sure that our partners can market IBM's offerings well," explains Dirk Rotte, Account Manager/Business Development Manager IBM Advanced Solutions at Ingram Micro.
A tried and tested format for this is the so-called Pocket Guide. Formerly designed as pure print brochures in A6 format, Pocket Guides are now also available digitally. For IBM Cloud Paks, the creation and implentation partner was freyraum marketing, who has been familiar and worked with Ingram Micro for many years.
The approach:  Sales need very different information than technicians: "Which challenges can customers resolve with IBM Cloud Paks? What is an appropriate starting point for the first meeting? Which questions do I need to answer myself? When do I involve a pre-sales consultant? And what are the specific next steps?" explains Alexander Glatzeder, Sales Director at freyraum marketing.
 "My contacts at freyraum marketing understand how IT works and how system houses operate. They can also explain complex and abstract contexts in a way that is appropriate for a specific target group. And they deliver on time and on budget".  Dirk Rotte, Account Manager/Business Development Manager IBM Advanced Solutions at Ingram Micro.
The RESULT: A sales tool that works.  "The initiative for the Pocket Guide came from the sales staff of a major partner," recalls Dirk Rotte." For us, this way of addressing the audience was uncharted territory. This is why it was so important for us to closely work with our IBM contacts in the process. freyraum did a good job with that, too. We were always up to date and our needs were well met."  
...and what did the sales partners say?
The sales tool was extremely well received. A major IBM partner even ran a marketing campaign around it: "Because the software in the Cloud Paks is all about container technology, the Pocket Guide came in a little container along with some sweet treats."